HELP AT HOME
THE CABLE BOX FROM THE "HOME LINE" RANGE
The Schill cable box is a real all-round talent when it comes to making flexible connections. In our cable box the cable is stored safely and securely in its double insulated, ergonomically formed, shock and impact-resistant plastic housing.
FOR WIND AND WEATHER
CABLE REELS FROM THE "BASE LINE" RANGE
These robust cable reels are made of high quality plastic and can really withstand the rigours of use. With their perfect insulation they provide maximum protection against electrical accidents. They are resistant to chemicals, petrol and oils and can withstand temperatures of - 20°C to + 60°C. Their ergonomically designed hand grips are even heat-resistant up to + 70°C. Two particularly practical features are the locking button recessed into the hand grip and the integrated plug holder that secures the cable during transport. The cable reels are furthermore available in a wide range of variants to ensure optimum utility.
PROFESSIONAL TO THE HIGHEST DEMANDS
THE CABLE REEL FROM THE "PROFESSIONAL LINE" RANGE
These cable reels made of special rubber fulfil every requirement. The unbreakable synthetic rubber is as strong and resilient as steel, but much lighter in weight. All of the cable reel's current carrying components are integrated into the rubber which offers protection against electric shocks. The material can furthermore withstand temperatures from -20°C to +70°C and is resistant to chemicals, oils and petrol.
PROVEN IN MANY VARIATIONS
CABLE REELS OF THE "CLASSIC LINE" RANGE
These cable reels feature interchangeable steel flanges and are highly resistant to impacts and abraison. The wide range of variants of course fulfils all of the applicable safety and quality requirements - for example the hand grip is not connected to the protective ground conductor for safety reasons. These cable reels are available in either orange or black, and a galvanized steel version is available at additional cost. These reels are highly recommended for frequent use outdoors and under extremely tough conditions.
READY FOR THE STAGE
THE CABLE REELS OF THE "STAGE LINE" RANGE
These compact cable reels meet all of the demands required for stage applications. They are easy to stack and especially suitable for use with long cables.
ALWAYS AND EVERYWHERE
CABLE REELS FROM THE "ACTION LINE" RANGE
These cable reel systems not only deliver a practical solution where continuous mobility is required - they also protect the cable. With their high service life expectancy and easy handling, these cable reels are ideal for outside broadcasting applications, radio broadcasts or for sports and other events.
A SENSE FOR THE PRACTICAL
CABLE REELS FROM THE "PRACTICAL LINE" RANGE
These cable reels are particularly suitable for installation in outside broadcast vehicles and cable testing trucks. The cable is reeled-in from the front, which means that space saving installation and flexible utilisation of the cable reel are possible. The optional slip rings are a particularly practical feature, enabling the cable to be reeled-in without interrupting the flow of data or power.
FLEXIBILITY AT ITS CORE
THE CABLE REELS FROM THE "CAMERA LINE" RANGE
This particularly flexible cable reel has just what it takes. Its core can be built up from four different core segments, offering the best solution for very heavy gauge cables of long length.
AS YOU LIKE IT
CABLE REELS FROM THE "INDIVIDUAL LINE" RANGE
These cable reels are fully tailored to your individual requirements and conditions of operation. Individual design criteria may for instance include size, place of use and specific application.
YOU CAN BUILD ON THIS
CABLE REELS FROM THE "CONSTRUCTION LINE" RANGE
These compact construction site cable reels are proven under the toughest of conditions and in all weather conditions. Whether for power supply or disaster control, the features are always exactly tailored to meet the corresponding requirements. The optional slip rings are a particularly practical feature, enabling the cable to be reeled-in without interrupting the power supply.
THERE'S MORE IN IT
EXTENSIONS CABLE OF THE RANGE "EXTENSION LINE"
You can always be sure you have exactly the right extension cable for your needs, irrespective of the type of cable you may require.
CUSTOM FIT LENGTH
CABLE WINDER FROM THE "FLEX LINE" RANGE
A very simple and exeptionally effective method of optimising the power supply in workshops and manufacturing facilities is to install our cable winder. The power supply is always available without a cable ever getting in the way, because the length of the cable constantly adapts to each new working situation. A spiral spring drive and high quality slip rings with silver-plated twin contacts guarantees safety and a long service life for this cable winder from Schill.
IT'S AS EASY AS THIS
WITH THE HOSE WINDER OF THE "AIR-FLEX LINE" RANGE
These spring-loaded hose winders were designed to complement the modern workplace at industrial premises, workshops and automotive repair shops. The hose can be locked at any extended length, allowing work to be carried out without spring tension pulling on the hose. the length of hose to be extended can be individually selected at the hose winder.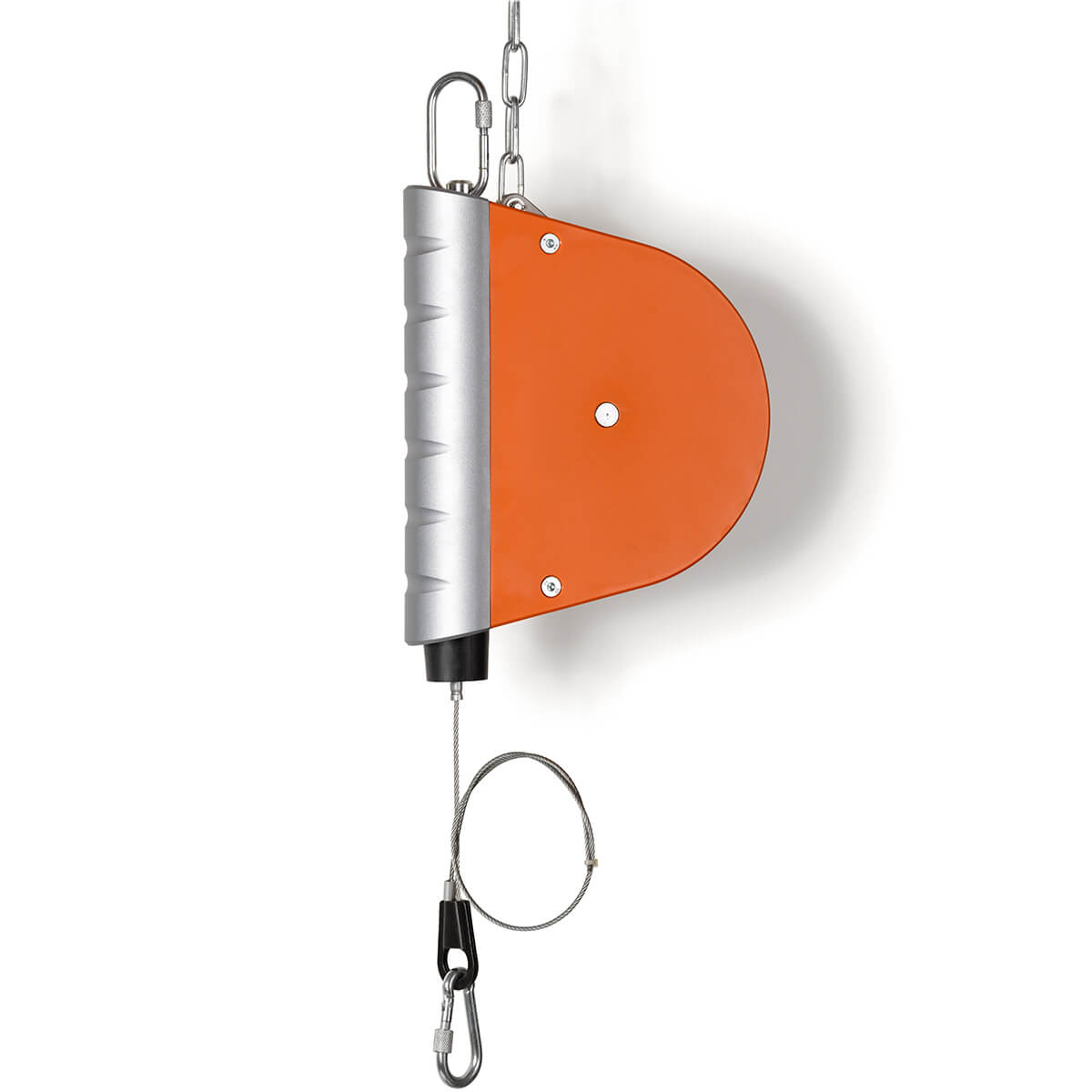 EVERYTHING IN FLOW
SPRING TENSIONER AND BALANCER FROM THE "DISPENSOR LINE" RANGE
Designed and manufactured in accordance with the highest quality standards, our spring tensioner/balancer systems ensure a safe and smooth workflow when tools and machines are being used. Weight plays a key role in the selection of the correct spring tensioner. This applies to both the tools and equipment that are to be attached to the unit, together with lead-in cables and any accessories.
WE LOOK FORWARD TO HEARING FROM YOU
Do you have questions about our product range, need technical advice or are you looking for a distributor near you? Give us a call or send us an e-mail. We are happy to advise you.