Our cable drums for the audio and video branch sets the benchmark when it comes to safety and comfort. For use in- or outdoors – a number of well thought out details for our series-produced models and also special products are the result of many years of experience increasing the utility value of the cable drums for the user.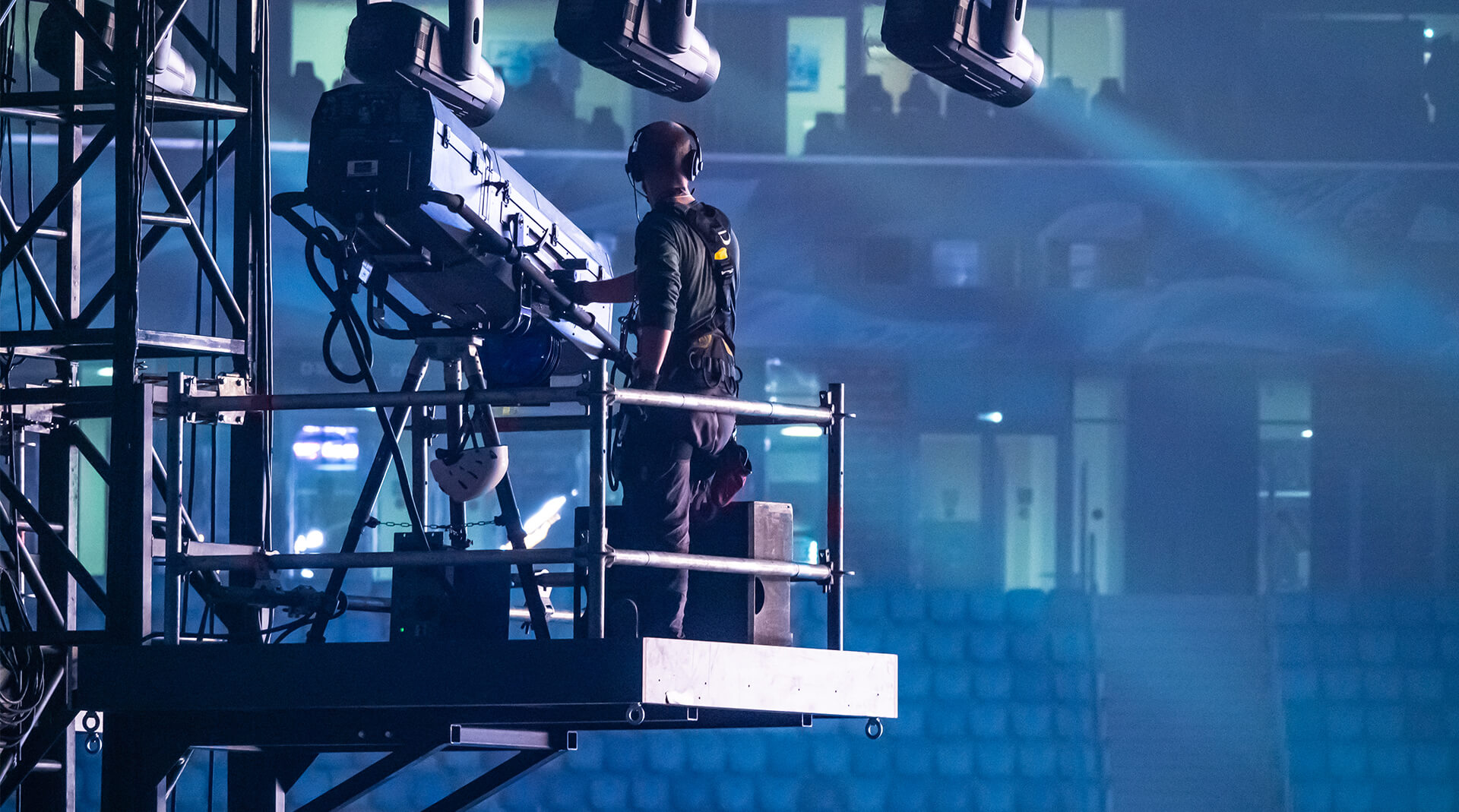 Sports and music events in particular require a lot of inconspicuous wiring. Therefore, we have kept many cable drums for this area in plain colours, black and grey. We developed stable cable drums especially for the stage area which can be stacked in the background as desired. Likewise, drums from the audio/video sector offer a variety of assembly options.
Various covers enable the cables to be stored on the drum according to their intended use and thus ensure a long service life of the cables.
FOR WIND AND WEATHER –
CABLE REELS FROM THE "BASE LINE" RANGE
These robust cable reels are made of high quality plastic and can really withstand the rigours of use. With their perfect insulation they provide maximum protection against electrical accidents. They are resistant to chemicals, petrol and oils and can withstand temperatures of - 20°C to + 60°C. Their ergonomically designed hand grips are even heat-resistant up to + 70°C. Two particularly practical features are the locking button recessed into the hand grip and the integrated plug holder that secures the cable during transport. The cable reels are furthermore available in a wide range of variants to ensure optimum utility.
PROFESSIONAL TO THE HIGHEST DEMANDS –
THE CABLE REEL FROM THE "PROFESSIONAL LINE" RANGE
These cable reels made of special rubber fulfil every requirement. The unbreakable synthetic rubber is as strong and resilient as steel, but much lighter in weight. All of the cable reel's current carrying components are integrated into the rubber which offers protection against electric shocks. The material can furthermore withstand temperatures from -20°C to +70°C and is resistant to chemicals, oils and petrol. In addition, there is a 5 year guarantee on the hand grip and spool.Das Material ist außerdem temperaturbeständig von – 20°C bis + 70°C und beständig gegen Chemikalien, Öle und Benzin. Dazu gibt's 5 Jahre Garantie auf Griff und Spule.
PROVEN IN MANY VARIATIONS –
CABLE REELS OF THE "CLASSIC LINE" RANGE
These cable reels feature interchangeable steel flanges and are highly resistant to impacts and abraison. The wide range of variants of course fulfils all of the applicable safety and quality requirements - for example the hand grip is not connected to the protective ground conductor for safety reasons. These cable reels are available in either orange or black, and a galvanized steel version is available at additional cost. These reels are highly recommended for frequent use outdoors and under extremely tough conditions.
READY FOR THE STAGE –
THE CABLE REELS OF THE "STAGE LINE" RANGE
These compact cable reels meet all of the demands required for stage applications. They are easy to stack and especially suitable for use with long cables.
WE LOOK FORWARD TO HEARING FROM YOU
Do you have questions about our product range, need technical advice or are you looking for a distributor near you? Give us a call or send us an e-mail. We are happy to advise you.