YOUR BENEFITS – OUR COMMITMENT
For over 70 years, Schill has stood for quality, solid craftsmanship and the development of innovative products. With great care and state-of-the-art production technology Schill pursues the goal of always producing the best for its customers.
SPECIALIST FOR
CABLE DRUMS
Experience from the most diverse industries such as audio/video, broadcast, trade and industry flow into our products. High quality and user-friendly products are our claim.
LONG-TERM AVAILABILITY OF SPARE PARTS
Due to the in-house production we can supply almost all components of our cable drums and spring reels for many years as spare parts.
SEVEN DECADES OF EXPERIENCE
Years of experience and technical know-how are the best prerequisites for our intelligent cable reel systems.
With our in-house toolmaking, many individual cable drums, hose reels and also large motor-driven drum systems can be manufactured to customer specifications.
Schill stands for high-quality and durable products - customer satisfaction and customer loyalty are important to us.
PREMIUM QUALITY MADE IN GERMANY
In compliance with current international standards such as DIN ISO 9001:2015, we manufacture all of our products is handcrafted in Germany.
STRENGTH IS CREATED WITH COOPERATION
Every single cable drum is the result of a well though out concept. It depends on many factors and diverse know-how that all comes together. To fulfil these high demands, qualified employees, modern technology at the workplace and selected suppliers is of course a must. Clear authorities in the departments also ensure for a smooth cooperation and as such, optimal results.
CONSTRUCTION.
IDEAS IN THE HEAD, REALISATION BY PLAN.
He who wants to manufacture quality, must plan with quality. The varied ideas are defines in our construction department. Products and also tools are created, reworked and improved here. Solutions for very specific demands are lookes for until such a time that they are found. For that specialists with a passion and modern technology at the workplace are a needed to create 3D models as well as to divert and manage drawings.
TOOLMAKING.
THE BEST HANDCRAFT, THE BEST TOOLS.
The focus in the manufacturing of our cable drums lies in pefection and absolute precision. Because of the µ-range precision, there is also no room for compromising quality in internal tool making. We are perfectly equipped with our CNC turning and milling machines as well as metal and plastic fabrication installations. That is also the case when specific components have to be manually manufactured at special requests. Furthermore, we also offer modern and attractive apprenticeships for toolmakers.
PLASTIC INJECTION MOULDING.
PERFECT MOULDS IN SERIES.
Even today plastics belong to the innovative and future-orientated materials. Various plastic injection moulding machines are available for the manufacturing of individual parts, conspicuously the Demag 800 NCV4 with 800 tons injection pressure. Parts take their shape with it: for our plastic cable drums, for the extremely robust special-rubber cable drums as well as for our camera cable drums out of glass-fibre reinforced polycarbonate. All tools that are used for plastic injection moulding come out of our own production.
PRESSING.
MATERIALS AT THEIR BEST.
Just as varied the demands are, our manufacturing possibilities are just as diversified. Relevant individual parts are pressed with the assistance of eccentric and hydraulic presses. The machines characterise themselves through their versatility, so that all kinds of formats as well as special requests i.e. zinc-plated cable drums can be manufactured.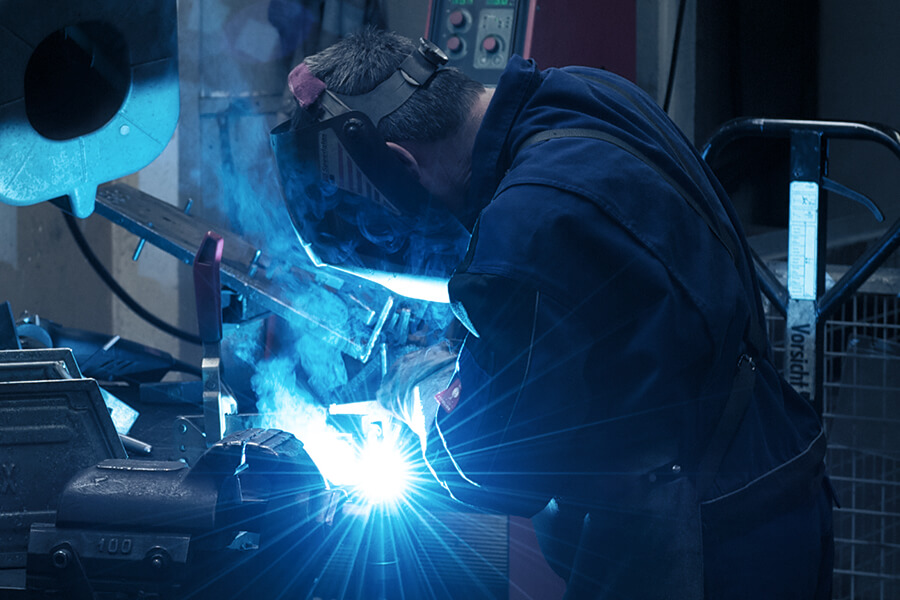 METALWORKING.
PRECISION AS A STANDARD.
Computer controlled pipe-bending machines are used in the metalworking shop to bend the various handles out of steel pipes - with minimal turnarounds times, very precise and of course, constant high quality. Over and above that the very demanding welding work on metal and aluminium is also carried out here.
POWDER COATING.
SURFACES THAT WORK.
First, all parts for the steel plate cable drums are cleaned from fat and other deposited substances; in an environmentally way of course. Afterwards they go through automated powder coating cabins on a chain conveyer, where they then get their colour: black or orange. In addition, there is also a hand-coating area where special colours can be applied by an experienced employee. The powder is applied electrostatic and permanently burnt into the relevant article in a oven at 200°C.
ASSEMBLY.
BIT BY BIT TO A WHOLE.
Because there ar eno doubt differences when assembling the various cable drums, we have divided the assembly into different departments. Here every individual knows exactly what matters with the relevant product and has become a specialist long ago already. We differentiate between the following areas:
Portable cable drums: Plastic, special-rubber and steel plate cable drums
Spring balancer drums: Automatic cable and loop retractors
Stage and camera cable drums and special constructions as per drawings, mostly motorised systems with a width of up to 3m and a height of 2m, that are usually built into broadcast vehicles.
After mounting an inspection of every single product takes place electronically as well as visually and finally, the appropriate packaging.
SHIPPING.
SAFETY TO ITS DESTINATION.
A large portion of our products is stored readily available for dispatch in our high-bay warehouse which is directly connected to the PPS-system. Customer orders are captured electronically and diligently packed in our shipping department either mechanically or also by hand. Finally, each ordered item is either collected by the customer personally or reaches them via airfreight, sea freight, haulage or parcel service.
WE LOOK FORWARD TO HEARING FROM YOU
Do you have questions about our product range, need technical advice or are you looking for a distributor near you? Give us a call or send us an e-mail. We are happy to advise you.